Delivery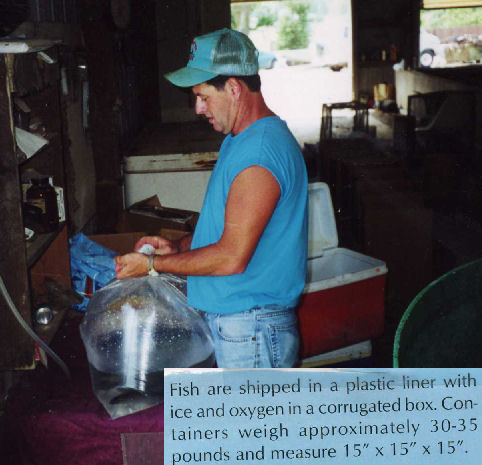 Delivery information
CUSTOMER PICKUP - We recommend you pick up your fish at the hatchery if possible. This saves you transportation costs, and gets the fish to your water faster than shipping. We can provide containers to pack them in at the farm.
Drop Ship DELIVERY - We use UPS or a similar carrier to deliver fish to your door. Fish are shipped in a plastic liner with ice and oxygen in a corrugated box. Containers weigh approximately 30-35 pounds and measure 15" X 15" X 15". Fish are guaranteed to be delivered alive.
Fish Truck Delivery - We have fish trucks so that we can custom deliver larger orders of fish to your pond or ponds. Call for delivery rates.
All Prices are F.O.B. Bedford, Iowa

Fish size availability varies with time of year

Call before picking up fish at the hatchery
See our Stocking Recommendations page for tips about numbers of species to purchase, or always feel free to call or e-mail us!